PSK CONTESTS
CONTEST FOR THE BEST DOCTORAL, MASTER'S, ENGINEERING OR BACHELOR THESIS
The Polish Corrosion Society invites you to enter into the contest for the best doctoral, master's, engineering or bachelor's thesis. The field of study comprises a wide range of corrosion protection of metal, concrete, polymer and wood surfaces. We accept papers on e. g.: corrosion resistant materials, protective coatings, electrochemical and inhibitor protection, corrosion research, aspects of environmental protection, legal issues, design issues or organisational issues. Papers from 2017 and 2018 can be submitted. The awards are made by the Committee comprised of science, industry and Polish Corrosion Society Board representatives.
Papers from 2017 and 2018 can be submitted. Submission deadline: 31st March 2019. Results: May 2019
The award ceremony will take place during Conference CORROSION 2019. Laureates will receive diplomas and money prizes and will be invited to shortly present their papers. We invite employees of universities and research institutes, especially authors and supervisors, to participate in this contest.
CONTEST FOR THE BEST PRODUCT/TECHNOLOGY/EVENT IN THE FIELD OF CORROSION PROTECTION
Each year since 2016 the Polish Corrosion Society awards the best product/technology/event in the field of corrosion protection.
In 2017 the "Red Kite" was presented to companies: TORKRET Sp. z o.o. in Best Execution category and GT Poland Ltd Sp. z o.o. in Best Product category.
Laureates in 2016 : IKOROL – inhibitor product augmenting the adhesion of subsequent layers of the anticorrosion system to ill-prepared steel surfaces, hot-dipped surfaces, and surfaces with remaining paint layers. It is manufactured in Laboratory of Technological Processes of Faculty of Chemistry of Warsaw University of Technology.
Next "Red Kite" Awards will be awarded and presented on Conference CORROSION 2019 in Warsaw. Submission deadline: 28th February 2019.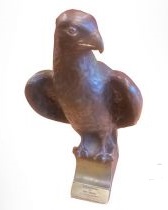 The "Red Kite" statuette