Molo, Poland, 2007
On 21–23 February in Smardzewice near Tomaszów Mazowiecki a Scientific-Technical Conference took place. It will be a permanent event in the Polish Corrosion Society's calendar. The objective of the conference is not only to present modern applications of corrosion protection but also to discuss specific corrosion problems, as well as exchange of experience.
The conference was sponsored by the following companies: International, Sigma Coatings, Jotun and Promal.
On the occasion of 50 years of publication of "Ochrona przed korozją" journal, the Editor-in-Chief, Barbara Biegańska, presented the journal's history and the people connected to it. Małgorzata Zubielewicz remembered the Editor-in-Chief of many years (1976–2003) and a corrosionist, Edward Śmieszek, who provided the readers with interesting developments of Polish and foreign research centers during his publishing work. Edward Śmieszek was not only a superb engineer, an expert in paints, coatings and corrosion protection, but also a kind person, who shared his knowledge and contributed to the integration of community in producing and applying coating products.
The next point on the agenda was the Reporting and Election Assembly of the Polish Corrosion Society. One of the most important objectives of the Board was to regulate and strengthen the position of anticorrosionists. Their second task consisted of developing Polish Corrosion Society procedures for measurement of chosen properties of anticorrosion coatings on the field. Two procedures have been already created: first one concerns marking coating adhesion, second one – marking coatings thickness. Polish Corrosion Society's website was created during the last term of office. Between 2004 and 2007 the Polish Corrosion Society organized or co-organized many seminars and conferences.
The second Conference day started with a session on surface pre-treatment. The second session's subject was corrosion protection of reinforcements in concrete. Protective coatings were the main topic of session three, and the last one - session four - was dedicated to general issues.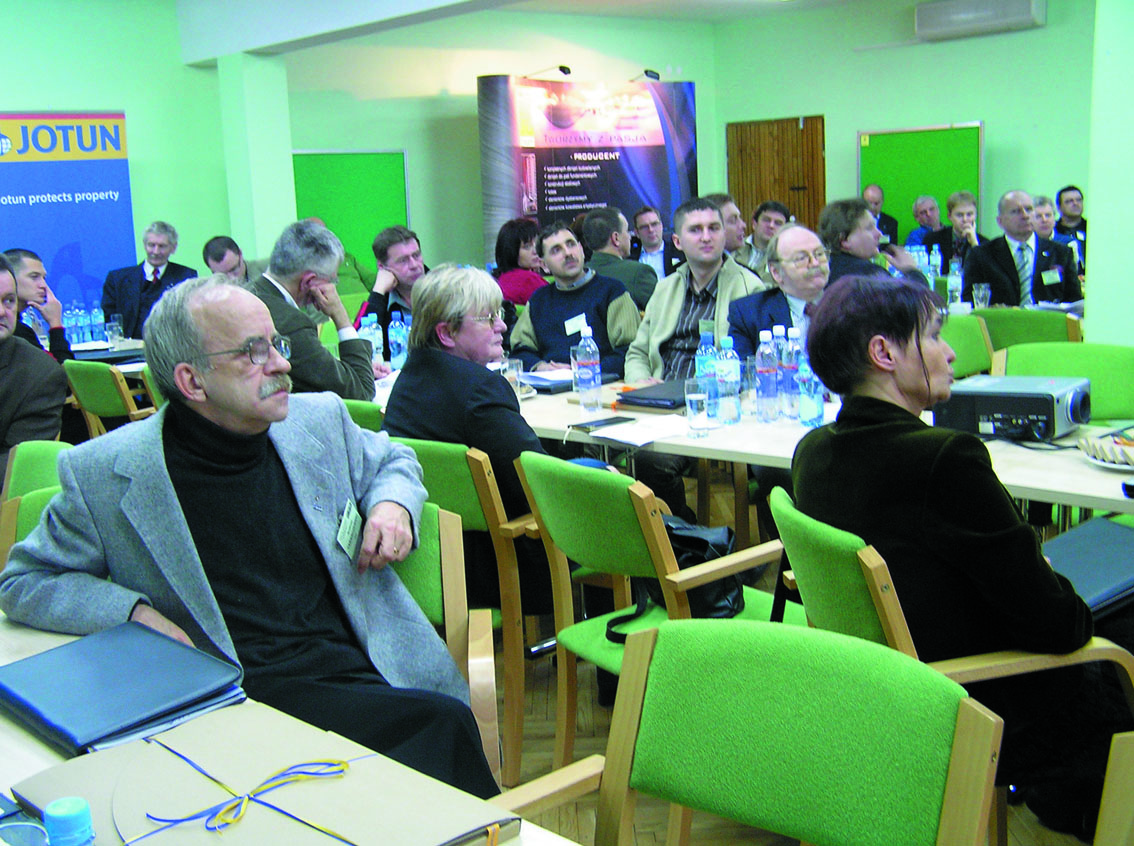 Papers and presentations:
Piotr Barszcz, Dariusz Bochenek: Research on atmospheric corrosion as an element of increasing aircrafts service life process with keeping specific safety level of aircrafts maintenance
Elżbieta Błachowicz: Chemical surface treatment in technologies of powder painting of the metal construction elements
Andrzej Królikowski: Emerging corrosion control methods for reinforced concrete structures
Leszek Budych, Marek Stojak, Paweł Wieczorek: Issues concerning the corrosion protection of historic bridges in Wrocław
Jacek Bordziłowski: The new methods of surface preparation for painting
Wojciech Sokólski: Personnel certification and company approval - statute activities of the polish corrosion society on an example of cathodic protection
Małgorzata Zubielewicz, Agnieszka Królikowska: The effect of overpainting period of epoxy coatings on adhesion of topcoats and protective properties of whole paint system
Presentations:
Adam Bochenek, Wiesław Pieniążek: 15 years of ANTICOR company
Rajmund Marek Sulik: Galvanizing done differently
During the Round table discussions it was decided that the Polish Corrosion Society will fund an annual award for the best thesis in the field of corrosion protection made at construction departments. During the conference, as well as all other Society events, the venue was full until the very last presentation, and the discussions continues until late hours. This means that there is much interest among professionals about issues being discussed and that there is a need for this kind of events.
---
---